You know your way around your camera and you've fallen in love with family photography, but your best photos are all of your own kids… are you ready for the next step? It can feel scary to photograph other families, and besides, where do you start?!
Or maybe you're coming from another genre and you need to start all over again with building a set of portfolio images that reflect your new love of documentary AND your unique point of view. Chances are you'll need to change a lot about how you work with families, and your approach to portfolio building too.
Wether you're trying something out, or you're on a mission to go pro with documentary family sessions soon, this course will kick start your portfolio building with real life families, supporting you along the way.
Gain confidence and experience as you work on your client skills, creative practice and workflow. Understand how to choose what to include in your portfolio, and how to develop it. At the end of the course you'll have the foundation of a client base and the start of your own portfolio.
☆ ☆ ☆ ☆ ☆
"Alice is so focussed and attentive, and her wealth of knowledge, ideas and attention to detail in everything she touches is second to none." — Nic
Welcome to Portfolio Building, a five week mentored course for documentary family photographers that will push your comfort zone, get you shooting real life families, and set you up for success with a portfolio that shows what you have to offer. By the end of the course you will:
🌟 Understand all the reasons why portfolio building is a critical step, and know what exactly to put on your to do list and when.
🌟  Have an action plan for how to find good portfolio build clients and what to offer them.
🌟  Be practiced in consultation so your portfolio build sessions are set up for success.
🌟  Have built up confidence and muscle memory so you can apply the documentary approach to anyone.
🌟  Expand your comfort zone in terms of the people you shoot and the places you shoot in.
🌟  Understand what YOU want out of a portfolio build session and how to get it.
🌟  Have shot at least one portfolio build session during the course.
🌟  Know how to deal with tricky situations that might (will!) come up during family documentary sessions.
🌟  Have learned from what went well and not so well during your own portfolio build session, in a supportive environment, and what to do differently next time.
🌟  Understand which images to deliver to your client and which to shortlist for your portfolio.
🌟  Have mentor and peer feedback on your shortlisted portfolio images, through a private Facebook group and two optional Zoom Q&A sessions. 
🌟  Have curated your images into the start of a portfolio that will appeal to the right clients for you and which represents your creative voice.
🌟  Have a plan for which images you need next – and how to get them – to keep building on your portfolio.
🌟  Have the foundations of a family documentary client base.
🌟 Have a network of photographers at the same stage as you for ongoing support and potential portfolio build shoot swaps!
Sign up today – starts 16th October 2023.
one-off payment of £345
Don't take it from us
This course is brand new, but here's some feedback from Alice's 1:1 mentoring students:
"I found the leap from taking photos of my own family to photographing other families huge and overwhelming, but I knew I needed a strong portfolio if I wanted to become a professional photographer. Having Alice's mentorship and guidance during this crucial phase was invaluable. It allowed me to be strategic and efficient in targeting families for my portfolio.
Alice guided me through the entire process: from appoaching families (whether friends or strangers), the practical steps of a portfolio shoot, coaching me when things didn't go quite right, to helping me pick the strongest images, some of which won international awards, giving me additional credentials. Alice is a supportive advocate and an honest mentor, I couldn't recommend working with her enough."
Francesca Codispoti
"My mentoring experience with Alice was fantastic and just what I was looking for to help me at the start of my photography business. Alice brings the perfect blend of calmness, encouragement, constructive criticism, creative insight and analytical skills to every session. Her amazing experience, talent and passion for both documentary family photography and supporting fellow photographers shines through – I feel lucky to have been able to learn from her! My main goals were to improve my technical skills and creativity as I worked on developing my portfolio and I have definitely achieved this, and gained in confidence as a result. I wouldn't hesitate to recommend mentoring with Alice – her wisdom is invaluable!"
Kerry Rhodes
"Alice is so focussed and attentive, and her wealth of knowledge, ideas and attention to detail in everything she touches is second to none. Not only is Alice an incredible documentary family photographer (with countless awards to show for it), she is also a pleasure to work with for anyone looking to advance their photography business. I'd recommend her in a heartbeat."
Nic Shuttleworth
"THANK YOU greatly for the amazing experience your mentorship has been. I love that I was able to benefit not only from your expertise with photography & storytelling, but your expertise with business building as well! I also really appreciate that you were so wonderful about encouraging and affirming me as a photographer, while simultaneously helping me polish, grow, and step outside my comfort zones. This mentorship has been invaluable and honestly my most favorite thing I've ever done for my business!"

Kylee Meyer Reed
"On making the switch from lifestyle to documentary family photography, I booked a mentoring session with Alice for guidance in refining my portfolio. It was such a massive help! She was able to view the images with the objectivity I was lacking and to provide honest and constructive feedback using her expert eye. She has such amazing attention to detail and really took the time to fully understand the motivation behind my photography and my specific brand. I have come away with a set of images I feel really pleased with, as well as the confidence to push my business to the next stage. I can't recommend working with Alice enough."
Nina Raingold
"Signing up to Alice's mentoring programme was hands down the best thing I have ever done for my business. I had hit a wall technically and creatively and was in need of advice. The guidance that I have received has meant I have come out the other side with the confidence to believe in myself and my creative vision. If you are thinking of making the leap, do it."
Rebecca Thompson
"I feel like you've just unlocked something for me! I can't thank you enough for today, it was SO helpful! You are so knowledgeable and you lift people up too! I feel inspired by you to take it all up a level!"
Jess Cheetham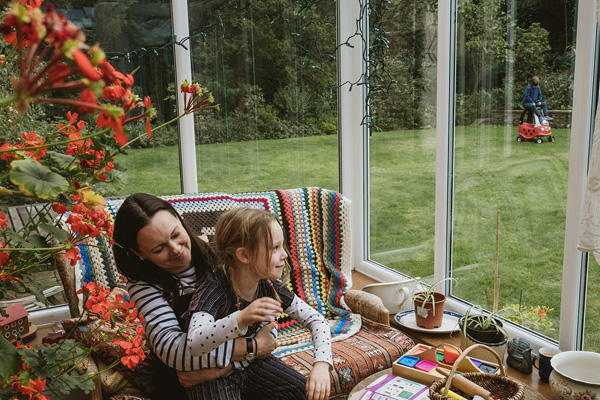 Alice Chapman
Alice has been a family photographer since 2011. The moment she realised documentary family photography was an established genre was the moment everything started to make sense. Alice is passionate about enabling families and children to be themselves in their family photos so that she can champion their individuality. Alice has been listed four times as the top UK family documentary photographer by the Family Photojournalist Association, winning many awards. Alice is a This is Reportage Family multi-award winner and a Documentary Family Awards finalist. With 15 years' people management experience, Alice only misses two things from her corporate days; office cakes and developing people's skills. A qualified coach and experienced mentor, Alice is passionate about helping photographers to plan, do and grow.
Are you ready to push your comfort zone and work on building a portfolio that is uniquely you? Let's go!