Would you like to successfully branch out into documentary nursery school photography? Have you tried it before but need help to make it work for you?
Are you wondering how on earth to go about it?
Our new Documentary Nursery School Photography course is an in-depth self paced course that will give you all the tools you need to design a successful documentary nursery school offering as part of your photography business.
Learn how to book up chunks of weekdays in advance with regular nursery clients, all the while marketing your documentary family photography business.
"Alice's documentary nursery photography mentoring is amazing! She takes what could be a seemingly impossible task (like keeping track of which kid is which while they all run in different directions!) and orders it all in your mind with amazingly thorough spreadsheets and processes that make it all so much simpler! Definitely worth the investment if you do regular nursery photography or would like to move into documentary nursery photography."
ROSE DEDMAN
Alice has been working in documentary nursery photography since 2015. Since then, she's delivered tens of thousands of nursery photos, delighting nursery owners and parents alike.
Alice has secured nursery bookings from a standing start, developed tried and tested workflows and processes, built a strong nursery client base and has many nursery parents as regular family photography clients.
With a current focus on photography education, Alice is sharing all she knows about how to diversify into documentary nursery photography.
In 75 pages of content, Alice will teach you how to turn organised chaos into efficient, profitable and regular work which can strengthen your overall business (and it's lots of fun).
Doing this course will enable you to

:
understand the entire workflow of documentary nursery photography
learn how to approach shooting and keeping track of everyone
understand the documentary nursery photography market
learn how to choose a good nursery, get bookings and build strong relationships
learn how to prepare and plan for bookings
learn how to approach editing and organising your work
learn how to take care of permissions and privacy
learn how to choose your prices and products
understand the options for proofing, selling and delivering
learn how to convert nursery clients into family clients
learn how to make parents and nurseries happy and how to measure your success
understand how documentary nursery photography can fit into your business
A downloadable in-depth written course to keep, separated into seven parts, with assignments to complete along the way in your own time;
A workflow checklist template;
A spreadsheet template and accompanying walkthrough video.
"Alice is without a doubt the Queen of Documentary Nursery Photography. Just look at her website and you will see she knows exactly how to capture stunning, personality-filled photos that parents will love. I had been wondering for a while whether to try and dip my toe in this very specific style of photography, but to be honest the logistics of it all was just too daunting so I kept putting it off. When I saw that Alice was offering a course that would walk me through the planning and implementing of Nursery sessions I jumped at the chance. Right from the very first welcome video you know that Alice has got your back. She has spent the last 8 years perfecting a workflow. In this course she takes you by the hand and very calmly guides you through each step of the process. Alice doesn't leave anything out. You really do feel you are getting ALL the inside trade secrets, including how to deal with snot. Yes, there is a whole section on snot! I love that the assignments are very specific, actionable steps. There is no waffle here. Every word, every section, every task is packed with experience and will get you one step closer to branching out into this unique little genre. The fact that the course is self-paced and text based works perfectly as it is super easy to work to a timescale that is right for your individual business; and very easy to flick back and make sure that no step has been skipped. If you think that Documentary Nursery Photography might be for you, look no further than this course to set you on the right track right from the start."
Vicky Cracknell
"I had some experience of nursery photography but was feeling frustrated that the time invested wasn't being reflected in my sales. This course has really helped fill in the holes in my knowledge and experience. Alice shows how the documentary approach can be subtly adapted to the nursery setting, while staying true to the aim of capturing authentic moments. With Alice's systems in place I'm confident that my nursery work will be more efficient and cost-effective. My goal is to make nursery photography a powerful marketing tool for my family photography – this course taught me to do exactly that with tips that I can put in place straight away. Finally, the section on snot was invaluable as snotty faces have been a big problem for me!"
Jennifer Adams
"Alice, I love your course! I am so thankful that it is a written course, and not video – works better for me. Already having a business as a family and wedding photographer, having an idea of CODB etc, the course dives into the actual practicalities and workflows I was missing to do a good job at my first kindergarden, with a documentary approach. I now feel more confident, thank you."
Jess Lycoops
What even is nursery photography?
We use different words in different countries… This course is about taking photos of individual children younger than school age (usually under 5) in a childcare setting (nursery, preschool, daycare, kindergarten etc) to sell to the parents.
Who is this course for?
This is for all photographers who already have a photography business (even if it's new or small) and are thinking of offering documentary nursery photography, or those who are already offering it but feeling they need help.
What if I don't have a business yet?
If you need help setting up, we recommend you also take our Business of Documentary course, to give you a solid foundation for branching out into documentary nursery photography.
Will the course teach me how to shoot?
You'll need to know how to photograph children already. The course covers adapting your style to work in the nursery environment.
Does the course cover school photography for children over 5?
Some aspects of nursery photography can be used for school photography of older children, but this course is written for pre-school nursery photography.
Is the course suitable for wedding photographers diversifying into nursery photography?
Yes, absolutely. If you'd like to diversify into family photography too later, then nursery photography will be a great stepping stone.
Does it matter which country I'm in?
The course is written from the UK. Some things are flagged as UK specific or – like GDPR regulations – UK and EU specific. With local knowledge of your own country, you can adapt or disregard as needed.
How much time will I need to dedicate to this course?
It depends what you have in place already, but we recommend reading through everything first, then working in detail on the sections in real time as you need to put things in place. The course is in-depth, detailed and about one and a half undergraduate dissertations worth of content! You're totally in control of your own pace.
What happens after I enrol?
Once your payment is complete, you will be added to our learning platform where you'll be able to view and download your course materials and get started. Please allow up to 24 hours for this process to complete, but in most cases in much quicker than that!
What if I change my mind?
Because the course is instantly downloadable we expect our students to be fully committed when they buy the course. With this in mind, the course fee is non-refundable. Please read our full Terms and Conditions here: https://learn.madefordocumentary.com/terms
How long will I have access to the course materials?
You can download them to keep forever.
I have more questions!
Great! Email us at hello@madefordocumentary.com and we'll answer any questions you might have.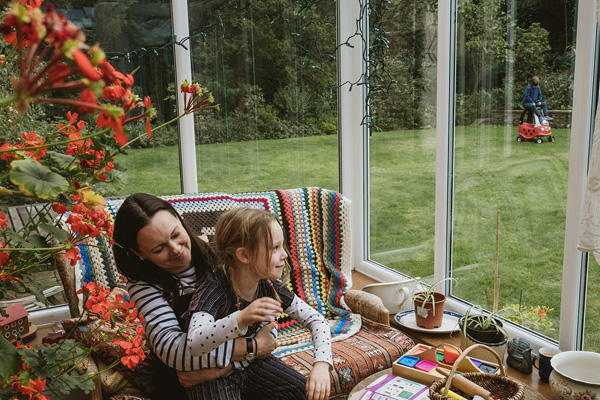 Alice Chapman
Alice has been a family photographer since 2011. The moment she realised documentary family photography was an established genre was the moment everything started to make sense. Alice is passionate about enabling families and children to be themselves in their family photos so that she can champion their individuality. Alice has been listed four times as the top UK family documentary photographer by the Family Photojournalist Association, winning many awards. Alice is a This is Reportage Family multi-award winner and a Documentary Family Awards finalist. With 15 years' people management experience, Alice only misses two things from her corporate days; office cakes and developing people's skills. A qualified coach and experienced mentor, Alice is passionate about helping photographers to plan, do and grow.