Tell us about yourself
I'm Nic and I live near York, UK, with my family of 5, but I'm originally from Bolton, across the Pennines (where it always rains).
I have an extensive background in design and art direction. My career started off designing billboards for Channel 4 Television and over the last thirteen years, I've run my own business specialising in brand identity development.
I love to meet people of all ages. When I was small, my mum was a mobile hairdresser, and I travelled around the village in the holidays with her, and a bag full of rollers and sprays. I kept the clients entertained with stories apparently, I never stopped talking or drawing and painting things for anyone who would take them.
I'm always taking pictures, but if I'm not doing that I'm usually on the school run, making things out of cardboard (kids homework) or running; I love to get outdoors – It's where most of my hair-brain ideas come from!
See more of Nic's work on her website: https://www.nicphoto.co.uk or follow her on Instagram @nicshuttleworth_photo.
What was it that drew you to documentary family photography? 
I've taken documentary-style photographs for as long as I can remember, I shot my first wedding on film when I was 19, and I recall vividly explaining that I only took candid pictures. At family parties, I'd hear, 'she's here again with THAT camera', no one was safe.
Having a small family, it's so important for me to document our time together as the children grow, I want to be able to look back and remember everything, not just how we looked all dressed up for a special occasion, but what we are like on all the other days too. What our house was like, the things we interacted with, what ridiculous fashion phases we went through, and (my) ridiculous hair styles.
It was only just over a year ago that I realised that family documentary photography was a genre in its own right, there was a whole community of photographers out there that captured things just how I loved to shoot. I lit up with possibility. It was then that I found the Made for Documentary community group on Facebook, I signed up immediately.
Your background is in graphic design; has this had an influence on your photography style?
It's hard to say if my images would be any different if I hadn't had a career in the graphic design industry. I'm used to telling stories visually, with typography, colour, tone of voice and imagery, I'm always asking if everything in the frame is relevant, does it tell the right story? It's the same with making a photograph. I think I've always seen things in terms of a frame, with branding, there are many elements that make up the brand story but you don't necessarily see them all at once. The elements are put together and presented in such a way that it makes sense for that particular piece of work; a flyer, social media post, book cover etc… I'm always thinking about what to include, what to leave out, have I got a good balance here, is it too much or have we gone too minimal? I think I enjoy the constraints of a frame and how you can use it to your advantage.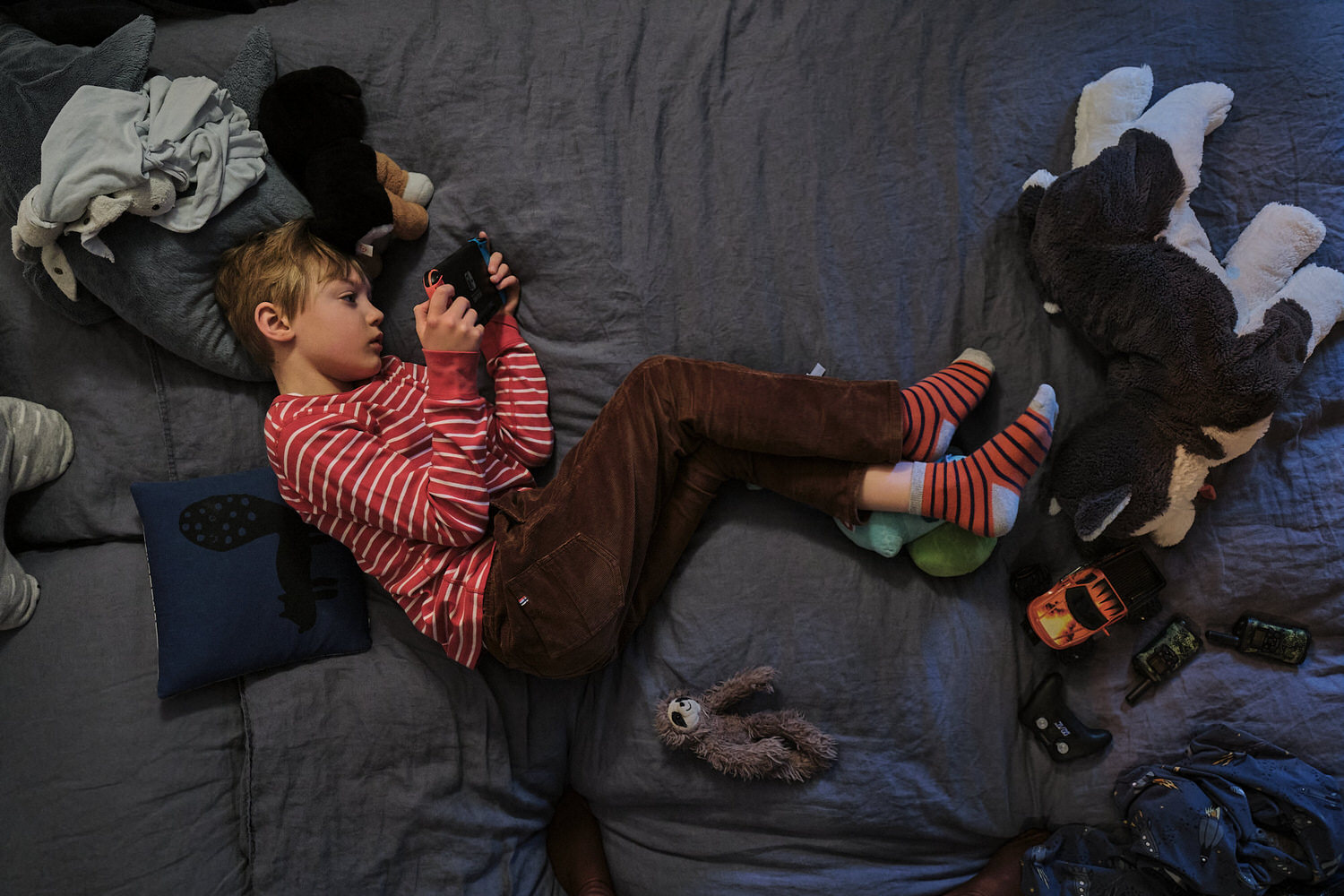 Please share your biggest "aha" moment in your photography journey?
There is no bad light. What? Yes! You don't have to make a dark room look bright if it's the middle of winter, your daughters birthday and all you've got is a candle to light the way. The room is dark, the photograph WILL be dark, and that's ok, it's an honest capture of what it felt like to be there.
Please share a photograph that you made that you're the most proud of – and tell us why?
It's not just the image here that I'm proud of, I made a friend, Ron, 87, who was kind enough to let me into his home a few months back to take an environmental portrait of him. We chatted for a while and it turned out that we were similar in a lot of ways, he was a graphic designer of his time, a compositor for the local paper.
He enjoys going to the Bowling Club most days and he invited me to join him. This image is from my first visit to the club when I got to play a game with Ron and his friends (they were one person short!), apologies to those on my team – it's harder than it looks! This is the beginning of a project with him and I'm excited to see how it unfolds.
What are your plans for the future?
I'm increasingly spending more time documenting families and events and would love to continue to build on this going forward. I'm currently working on the business of documentary course so I'm excited to see where that takes me.
What would be your top tips for people that are interested in / starting out in documentary family photography?
Don't do it alone. Working for yourself can be quite isolating and it's sometimes really difficult to judge things when you don't have an office full of people to ask. Find a community that you resonate with, it's great for support and for getting inspiration from others. If you can, invest in education. Being made accountable and having critique of your own work directly is a really efficient way to learn.
About Alumni Spotlight
Alumni Spotlight is an interview series showcasing documentary family photographers who have completed a mentoring programme with Made for Documentary. Our students talk about what makes them tick, showcase their favourite images and share advice for those wanting to dive into the world of documentary family photography.
Subscribe to our newsletter below to get the latest interviews right into your inbox.